In our twentieth episode of Talking VoIP With Datagate, our CEO, Mark Loveys, sat down with Morgan Aspinall, Senior Technical Consultant at HaloPSA, to delve into the world of MSPs and how they can optimize their PSA system.
At Datagate, we recognize the significance of HaloPSA in the MSP landscape, as an increasing number of our clients are choosing it as their go-to PSA system. With their reach in all the countries where Datagate operates, HaloPSA has become a trusted partner for MSPs worldwide.
We take pride in offering a comprehensive integration between our telecom billing solution and HaloPSA. This integration enables effortless data sharing and eliminates the cumbersome task of re-keying information between the two systems. By leveraging this seamless integration, MSPs can unlock unprecedented efficiency and accuracy in managing their billing processes.
During this insightful conversation with Morgan, we explored invaluable strategies and best practices for MSPs to extract maximum value from their PSA system. As an industry expert, Morgan shed light on the untapped potential of HaloPSA and how it can revolutionize the way MSPs streamline their operations.
Morgan, could you tell us why an MSP would choose HaloPSA?
Morgan Aspinall, HaloPSA
I think there are two or three main aspects to answer that question. First and foremost, the app itself is incredibly fast. You might find in other leading PSA tools, that it might take two, three, four seconds to open a ticket, in Halo tickets open in milliseconds. 
We've been around for a long time, actually. Formerly we were helpdesk company, that's 30 years old, meaning that we have 30 years' worth of functionality, baked into that app, but it used to be a Windows-based application. And then, more recently, we sort of ported everything over to a web app. So we've got a mature feature set, but in this new shiny, fast web-based application.
To that point as well, you know, even though we are 30 years old, we still move like a startup so you'll find our rate of development is blindingly fast. 
We're pushing out new releases every week, every other week and every single one of those releases has dozens of if not hundreds of features on them, and the other side of it is the business aspect, I think the MSP Community are very appreciative of the fact that we are privately owned. The same two people who started the company 30 years ago are still the owners of that company today. And we have no intention of selling out at any point, even to the point where we're actually looking to put something into our contracts to honor that pledge. 
So, yeah, I think a shiny fast, new app with heaps of functionality and new features coming out all the time, and yeah, no intention of selling out. 
Do most of you guys come from a technical background?
Morgan Aspinall, HaloPSA
Well, I think the great thing about Halo is a lot of us sort of touch various aspects of the business and for myself, I don't do onboardings as much anymore, but I have done, as part of the implementation team, done many on boardings with MSPs over the years. 
And throughout that time, of course, you know, I learned a lot about Halo and about PSAs and general but you also get good exposure to the industry. So yeah, it's a matter of the more you know, the more valuable you are and Halo very much cherished that as opposed to putting people in a box and sort of keeping them there.
How does the billing work inside HaloPSA?
Morgan Aspinall, HaloPSA
There's a lot that can be discussed and I'll try and keep it as brief as possible…
We have some or all of the core billing functionality, that one would need. We have the ability to create ad hoc invoices, recurring invoices and agreements. And of course, bill for labor or add labor to said agreement. 
All of that functionality can be found in the invoices module. So what we're looking at here is just a trial I've spun up just earlier today. So anyone getting at trial round about this time should see an interface, very similar to this. 
Now in our invoices module, we have the ability to create our recurring invoices where what we're doing in here is we're effectively creating a template for invoice creation. By which, I mean, we add all of our sort of recurring products in here and set a schedule for the invoice or instances of the recurring invoice to be created. 
So, you'll see on the right-hand side here, we've got our schedule that we can set. So, it might be that your billing monthly at which point you'd have your repeat periods be monthly. You might be building quarterly or annually. So you've got some options in here around that….Pick our customer, let's just do Acorn and then we can add our recurring items onto our invoice. 
And further to that point, it's quite common that these recurring invoices will actually be based on some other part of the system, maybe your invoicing for licenses, or you're doing per-device billings like that.
So at that point, what we could do is we can actually change the quantity from just being a hard-coded number to being calculated from some other part of the system. So to enable that functionality, all we need to do is go to our configuration panel, which is where we have all of the settings in Halo. And then within our configuration panel, we have a billing option and within here, we have recurring invoices and all I have to do is enable this option to allow, recurring invoice quantities to be based on other parts of the system. 
Now if we go back to our recurring invoice, what I could do is, I could say my business premium license line instead of it just being hardcoded to 10, I can actually have that quantity determined based on some other part of the system. 
In this case, it's going to be licenses and it's worth mentioning that we have integrations with CSP, Pax8, Ingram Micro, etc to pull those licenses and subscriptions into Halo such that you don't actually have to worry about adjusting quantities from month to month, quarter to quarter. The integration can handle that all for you. So the idea is you set your billing up and you just leave it in the background and yeah, watch Halo, do its thing. 
What are the most common MSP billing models that you've seen?
Morgan Aspinall, HaloPSA
I suppose I've seen a shift from sort of a break-fix model to more to managed service agreements and even further to that standardizing those managed service agreements, which I think is a far better way of doing things. 
As an MSP, you're going to want to be getting reliable, recurring revenue and that break-fix model while it can work, you're at the whim of the customer's needs. If they don't request support for a month, then you're not getting any money from them.
So yeah, I've seen people sort of, standardizing their packages, which also is going to be beneficial because it's very hard to track your clients that you potentially upsell to if everyone's on this bespoke contract and there's no sort of uniform package that you're providing across all your customers. 
Have you seen differences in markets across the globe?
Morgan Aspinall, HaloPSA
I think the models themselves are actually fairly standardized across the different regions. The one thing that I would say is definitely different between the US and Europe, is the tax. Taxes in the UK are incredibly straightforward. It's just a flat fee similar in Europe, depending on the country that you're in now. However, in America, it's a different ball game altogether as I'm sure you're aware. 
Are MSPs seeing the same business challenges in all those countries?
Morgan Aspinall, HaloPSA
Personally, I think they're very similar across the board and that's from my experience though it's worth mentioning that while I've worked with many MSPs, I've never run one myself. So, you know, somewhat of an outsider looking in. But yeah, from my experience, the challenges across the board are somewhat similar. Yeah, it's interesting. 
Mark, what do you think about that? 
Mark Loveys, Datagate
Yeah, I think we take a lot of experience from one country. We try that out in the others and I guess I agree with you that particularly telecom, the taxes are quite different in the US, but, apart from that, yeah, a lot of similarities. 
MSPs themselves are often, quite interested to know what are people doing in other countries and it's amazing how the world has become very unified in that respect, a lot of the same technologies and dealing with the same suppliers, a lot of the time too. 
Morgan Aspinall, HaloPSA
It is a really strong community in the MSP space and you know, I quite often see a customer that I work with in the UK, talking to a customer that I work with in the US, and everyone sort of sharing ideas. And yeah, as you say over time and there's this sort of blend into best practices globally.
How is HaloPSA reacting to the demand for automation?
Morgan Aspinall, HaloPSA
Firstly, as I previously mentioned regarding the automation of setting those invoice quantities. That's a huge feature – that came out a while ago now. But yeah, that's something that I've seen a great response to.
Further, to the automation point, I suppose MSPs, obviously have a large tech stack and they don't want to have to be manually keying in data from one platform to the other, they want a seamless transition between all of their different tools and the automation of communicating data between the two.
HaloPSA has a very rich repository of native integrations. So again, in the configuration module, you have an integration section and you'll see all of the tools that HaloPSA already integrates with. And one of my favorite features that has recently been developed, is this custom integration section. So effectively, HaloPSA can now integrate with any API that the MSP has access to. 
So you can go in [to HaloPSA] and you can create an integration with any tool that you see fit. So while we do have this sort of extensive list of native integrations, the chances are, there's going to be some tool that we don't already integrate with.
We now have the ability to effectively integrate with anything and automate the data flowing from, you know, from Halo to another platform or  from another platform to Halo
Another cool new feature that we've introduced is the ChatGPT integration, you know [it] confirms the point of automation. So I think we still are the only PSA that has an integration already brought out. The ChatGPT hype kicked off months ago now I suppose, and approximately four weeks after that, we had this integration in. 
I mentioned it to Tim, our product manager, and then a couple of weeks later there it was so that that came out blindingly fast. And I see pros and cons of ChatGPT itself and I'm interested to see how it's going to change the MSP landscape over the future. 
What are your thoughts about MSPs reselling telecom services?
Definitely, something that is more prominent in America. I suppose you guys are the authority on this one. So Mark, perhaps you could sort of school me on this. 
Mark Loveys, Datagate
Absolutely. Well, you know, we at Datagate seeing tremendous uptake, we're seeing that MSPs are winning in that market, so they're taking a lot of business off the big telcos, because the fundamental logic that businesses prefer to buy their technical services off one source. 
There's a saying in America, they want one throat to choke when something goes wrong, you know. They don't want two companies saying "It's the network. No, it's the UCaaS system", you know, they want somebody responsible for the whole tech stack that makes it work. Good question. I mean, are you seeing that in the UK, what's the dynamic there?  
Morgan Aspinall, HaloPSA
I suppose it's definitely picking up more recently. Yes. I think the Datagate integration is certainly going to help drive that forward. I suppose the sort of functionality in Halo was not as mature around telecom billing until fairly recently so it's not a market that we have tapped into so heavily just yet, but again, the Channel Partners event was a great opportunity to get some exposure.
So I think we're going to be seeing a large upkeep on the horizon. 
Mark Loveys, Datagate
Absolutely. And I guess with the integration between Datagate Telecom Billing and HaloPSA. Now we've got an ideal package there to offer that market. I mean, I know in America in the past, a lot of the MSPs stayed away from telecom because they said, look it's too complicated on the tax and compliance side, that's why it's been our mission to make it easy. 
Now, we have partners that look do all the tax filing and all that side of things. But the other big strong message that we had from MSPs was well, they want that to work with their PSA system as well. So that's been our big focus. That's why we're so so pleased to be working with HaloPSA, a very popular PSAa system. And I have to hold back from saying a new entrant, we've been focusing a lot on the US market. 
We've seen you enter the market in the US and have been very impressed. We've also seen you all in all the countries that we operate in and very interesting to hear the history that you've actually been around for about 30 years. And so, you've got a lot of experience built into a very new modern technology offering. It's a great combination to have. 
What are your thoughts on MSPs offering cyber insurance?
Morgan Aspinall, HaloPSA
That's a no-brainer to me, absolutely. They certainly should be. you know, people have home insurance, they have contents insurance, you have car insurance, you have health insurance, why would you not have data insurance?
As an MSP as well, you're going to be a primary avenue for cyberattacks. So, as an MSP. You should certainly be as a bare minimum, highlighting the potential risks that customers are putting upon themselves if they don't opt-in for insurance. 
What do you see as the opportunities for our combined solution?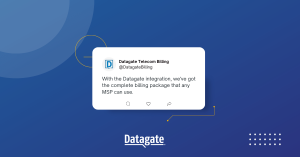 Morgan Aspinall, HaloPSA
The opportunities are immense. There's a whole sub-sector of – and a large sub-sector  – of MSPs that do telecom billing and before the Datagate integration, it was very much a manual process. I'm sure there are some existing customers of Halo that can attest to that. 
And not only that, there's going to be potential leads that we've lost along the way because they've asked about the billing and we said, "you know we have all of the billing apart from telecoms billing" and now with the Datagate integration we've really sort of closed that loop and we've got the complete billing package that any MSP can use. 
And I mean in terms of the integration as well in sort of uptake, what have you seen in Datagate? What are your thoughts about the integration? 
Mark Loveys, Datagate
Well there's been a lot of excitement about this integration between Datagate Telecom Billing and HaloPSA, lot of our customers have been looking to move on to HaloPSA, a lot of our prospects coming in saying we're with HaloPSA, and we want telecon billing, and so, it's an exciting, new development for us. 
It was great to actually meet you guys in person and, you know, we've obviously worked together putting this integration together. It's been done really well. I can see the benefits – both teams have got a lot of experience in this area and all the reports we're getting from our customers about the integration are very, very positive. They're very, very glad to not have to rekey things, make things automatic.  There's one thing that MSPs like, that we've both been learning, is they love automation and it's very clear that HaloPSA understands that very well just as we do at Datagate and it's great to have this integration between our products. I'm very, very happy with it. 
Morgan Aspinall, HaloPSA
I think I can speak for everyone at HaloPSA when I say that we're looking forward to continuing to work closely with you in the future months and years. 
Any pearls of wisdom you can offer MSPs to get phenomenal growth like you guys are?
Morgan Aspinall, HaloPSA
Yeah, I'm supposed to put a post-it note: look after your PSA and your PSA will look after you.
It's a matter of making sure that the PSA is set up, it's got all of the data in it that you need to capture. That's the only way that you're going to really get the data that you need back out of the system. It's the old sort of saying: garbage in garbage out. 
So, you know, take the time to invest in your PSA because whatever PSA is, whether it's Halo or some other tool, take the time to invest in it because it will pay back dividends.
Also don't just set it up and leave it. It's a constant, Halo at least is a constantly growing system and you as an MSP can grow with Halo by implementing the features that we're developing on a weekly and monthly basis.
So, you know, as I mentioned every week, the tool gets more powerful and puts more power in the MSP's hands, but it's not going to do that if the MSP doesn't take time to actually sort of improve the system by adding the new features in that we've developed.
Yeah, I'd say that's what I say. I'd also say it, an MSP will have many different systems. If there's an integration available I would advise integrating with it you know, if else you can use the custom integration feature, and that way you can have HaloPSA as your single centralized platform, that single pane of glass is going to have all of the data in it that you need.
And, you know, subsequent to that you'll be able to have effective reports that you can create, improve profitability, and all of that good stuff.
—
If you're an MSP seeking to optimize your PSA system or curious about the benefits of integrating Datagate Telecom Billing with HaloPSA, this episode is a must-listen. You can watch the full podcast here: https://www.youtube.com/watch?v=Ho3SgnTIwiI
Visit HaloPSA: www.halopsa.com
Get in touch with Morgan: [email protected]