Datagate resource center
Learn how to simplify complex billing with Datagate.
Datagate enables MSPs to become one-stop-shops for the entire technology stack for their clients.
Watch a short video, see a demo, read our e-books, brochureware, and more. Learn about Datagate's integration with leading accounting and industry software partners.
Datagate Support Center
Datagate's Support Center is online and available to help all Datagate clients via our support portal, support email and telephone.
About the Support Portal
Datagate's Support Portal is home to a wealth of resources to help you set up and get the best out of your Datagate installation, including:
IT & Telecommunications have converged
Published: December 20, 2018.
Find out how Datagate makes telecommunications billing easy – and why Datagate is the best cloud telecommunications billing solution.
Microsoft video: Datagate Innovation
Published: August 14, 2018.
In this video, Datagate CEO Mark Loveys explains the Datagate concept and how the Microsoft Azure platform is integral to Datagate's ability to provide a state-of-the-art online billing and customer service portal to clients.
Datagate demo video
Published: May 16, 2018.
This video is a high-level demonstration of the Datagate portal and how it works.
Datagate promotional video
Published: March 14, 2017.
This video explains how MSPs can easily resell telecommunications services, using Datagate.
Datagate video: Monetizing online services
Published: October 28, 2015.
Datagate CEO Mark Loveys explains how Datagate helps simplify complex billing.
Technical brochure: ConnectWise Manage Certified Integrator Partner
Published: October 2018.
Audience: Global
If you're an MSP selling telephony services, Datagate makes it simple to view bills within the ConnectWise environment, send bills  automatically into your accounting system, and never re-key customer details and invoices.
Brochure: An integrated solution for telecom billing, taxes and compliance
Published: October 2018 (for IT Nation 2018).
Audience: U.S.
The best VoIP billing solution for MSPs. Datagate makes it simple and profitable to bill VoIP and all other telecommunications services, and our partnerships with Wolters Kluwer CCH Suretax and other compliance partners automates U.S. communications tax compliance.
eBook: Seizing the opportunity as a 'one-stop-shop' MSP (U.S.)
Published: October 2018.
Audience: U.S.
This ebook shows U.S. MSPs how to easily sell telecommunications. Datagate has everything required to make billing telecommunications easy, profitable, safe and compliant, in a single SaaS package.
Please note: you will need to register to download the ebook – it's quick and easy!
eBook: New revenue for IT Managed Service Providers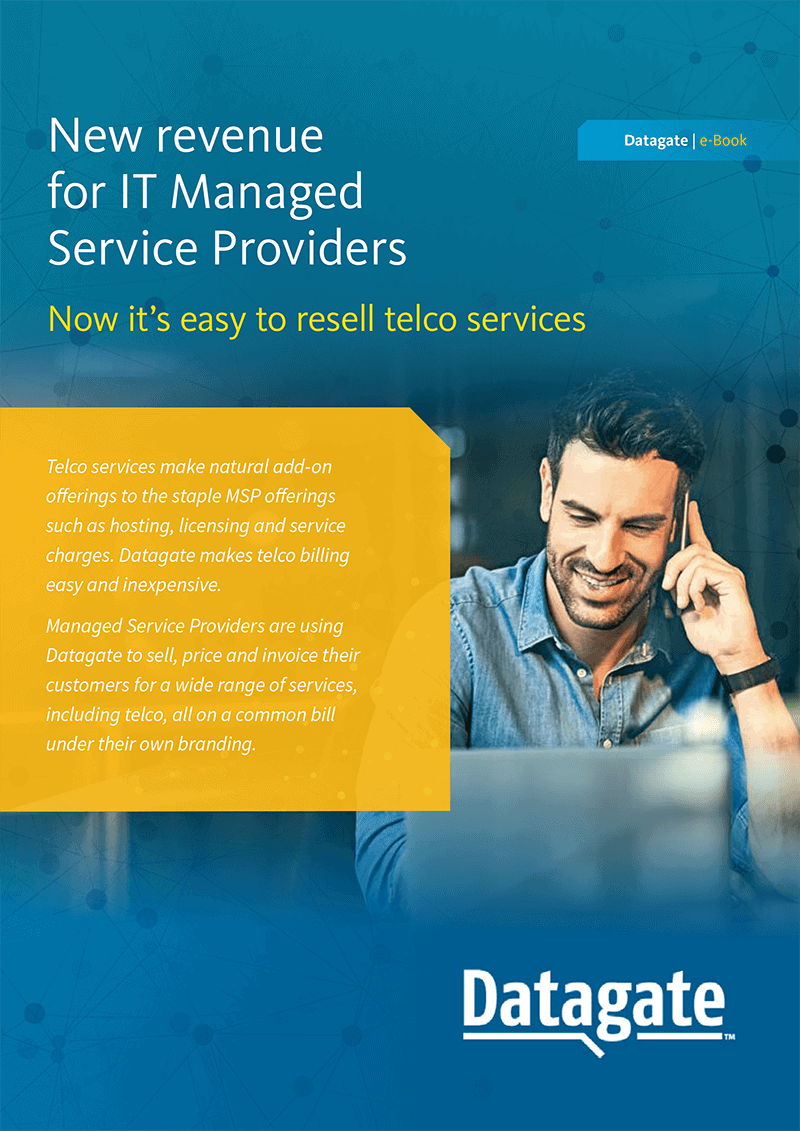 Published: November 2017.
Audience: Australia, New Zealand, Rest-of-world
Now it's easy to resell telecommunications services. Telco services make natural add-on offerings to the staple MSP offerings such as hosting, licensing and service charges. Datagate makes telco billing easy and inexpensive.
Presentations and diagrams
Building for growth: Automate your billing, control your customers, increase your profits
Date: November 1, 2018.
Audience: U.S.
For this webinar Datagate CEO Mark Loveys is joined by two experts on U.S. tax and compliance to talk you through growth of your company, revenue and business valuation via telecommunications offerings.
Please note: the audio commences at 1.49. 
Can't find what you're looking for?…